Gosan's cousin is a character in Denma.
He's the Director (President) of Pax Industries.
His right face looks like sewed up to something like metal, but there're no stitch marks.
His beard is white. 20 years ago, his beard was black.
He smoke cigarette.
He tap on a Causality Calculator like his cousin, Gosan. But he always knows late about the El family than Gosan.
He's the Duke's nephew. The Duke is his uncle (큰아버지, 'keunabeoji'), it means the Duke's younger brother's son is him. He's Gosan's cousin.
He was a leader of his own group 20 years ago.
Biography
Edit
In A Catnap (112), The Duke calls to his nephew, him and says he want him to stop working there, and get his office and starting working at tomorrow, because there's going to be a meeting with the Head Bishop of the Church of Madonna so he want him to be there and at all other meetings. The Duke says his cousin Gosan is too young so he can be responsible for this family so he want him to handle it. He says uncle could find someone he can trust around him. The Duke says the word 'trust' can never go with the word person, and he asks their family motto. He answers that make everyone trust and never trust anyone, and asks why all of a sudden are uncle putting him in that spot. The Duke answers that if the trust is broken he only need to get rid of him, and it's easy to check up on him, and he says if this meeting goes well the new business will change their family's position in the Eight universe, and he's the only one from their family who can do that right now, so he should stay by his side and learn what he has to does, and he'll talk to him more about the details tomorrow when he come to work. He concerns about that why uncle is saying all this. The Duke answers that under the condition after he has put in all the variables and factors into this calculator and he thinks he'll be dead soon.
The Duke summons him, and angry and says, it wasn't a request when he told him to come at once. He says he need some time to warp things up before. The Duke shouts that he was going to show up after his life was wrapping up and his life is at stake here, and he talk about wrapping up, and he won't get a penny out of him. He says the Duke has been saying that for nearly 10 years now, and he's a leader of his own group now. The Duke sees his calculator and shouts he coming here doesn't help with his death at all. He says the Duke can put that calculator away, and if the calculations were ever correct, he should have died several times already. The Duke says exactly, he managed to survive them all thanks to this, and he's even worthless than a calculator. He asks why can't he avoid the Duke's death again this time. The Duke answers he can't afford to lose this opportunity. Mayhen comes and reports that the Patrols tells that the investigation is almost over, so they'll soon release to Agnes. The Duke angry because the Patrols are give a necessary interval of time.
Kanu and the Duke meets. Kanu receives Joshua's eye. The Duke says Kanu will have the other one after the meeting with the archbishops. At this time, Mayhen comes in haste and reports that Agnes has been kidnapped. An Aorica member holds Agnes' chin in his hand and takes her hostage, and he threats if the offer is way below his expectation she's his, so the Duke can feel free to be generous, and he'll give him three days to come up with the figure. The Duke says he'll see them in three hours, and they're surprised to hear that. The Duke says he has enough on his plate as it's, and if he had to wait another three days, he wouldn't even remember his demands by then, so they can give him the coordinates for his ransom pickup, and he'll go there himself for the exchange, and he can get his filthy hands off of Agnes because he can't see her pretty face, and whatever sum he has in mind, he guarantee him will get more as long as no harm comes to her.
He says he strongly urge the Duke to reconsider because it's too dangerous to go there by himself, and Aorica is known to be the most vicious planet even among all the hideout planets in the Universe eight, and the planet consists of outlaws and their relatives who're either banished or on the run, and their main source of income is from their drug manufacture and trafficking, which account for a staggering 13% of the entire universe, and the so-called Hourglass series, in particular, is their best seller, and whenever a new product from the series is released, it's instantly sold out, and he can image how high the prices goes up, and the Hourglass is the drug that shapes into an hourglass when he mix it in the water. The Duke says the Hourglass is the drug which gets more expensive with a thinner waistline, and he gets to know that's where it came from. He explains the king of Aorica uses the profit he gained from the drugs to equip and even manufacture powerful weapons, and with all the work they put in their planetary defense, there's no telling just how strong their firepower really is, and he also has a planetary vigilante called 'The Thousand Men', consisting of literally a thousand Quanxs, more importantly, since the whole planet is a safe haven, even the Patrol won't lend their aid on this one, so the Duke can't go there. The Duke says so that's exactly why he has to does this himself. Kanu says she thinks it'd be best if the Duke let the church to bring back Agnes. The Duke asks Kanu had stand against the U.C.S. itself. He asks why doesn't the Duke just send the White Police Guards instead. The Duke answers the meeting with the archbishops is imminent so he'd rather take care of this quietly. The Duke agonizes about who should he take as his entourage.
In 1. A.E. (3), the White Police Guards kill The Thousand Men, and they say that 'All clear'. He surprised to see this, and asks to the Duke that did what the Causality Calculator have to say about this. The Duke breaks the Causality Calculator and answers that it's broken. A satellite robot just entered the planetary orbit. He says the Duke said he would never expose the White Police Guards or its firepower out in the public, and now he have the entire universe eight as his mortal enemies. The Duke hangs out the phone.
1 year 1 month ago
Edit
December 24th
Edit
In God's Lover (55), Yahwah reports to him that God is talking about Mating. Yahwah says he's assuming that the leakage of the Neuro-scanning technology led to the abuse, and this was years ago, so he thought it's time for him to step up, and they should pressure the U.C.S. to disband the Quanx forces at the planet Carlburn, because they putting an exception as such allowed these nobodies to hide and do these experiments. He says these useless Quanxs are always making trouble in the universe. Then Yahwah makes a strange look. He says he was talking about Quanxs that are outside themselves. After the call was over, Yahwah contacted Cell and tells her that, the distinguish humans from other creatures is that humans are ungrateful so they're a worthless species.
At Pax Industries, the sunglasses bandage sees God is talking about Mating and asks what he's going to does with it. He says they'll get rid of the owner of planet Bella because he couldn't comply with the confidential agreement, and now that's going to be a threat to them so they'll handle it as started in the agreement. The sunglasses bandage asks it would cause a turndown in trade with Bella due to absence of the planet's owner. He answers they make an owner the owner of a planet and they'll make one of the planet's biggest capitalists the owner of the planet and make him pay a fortune for the illegal items that U.C.S. banned in the name of the planet's safety, and it's their business. He orders they're replacing the owner with a new one and selling it at a high price again.
1 month ago
Edit
In Chapter 2 2. A.E. (15), he smokes and talks with Dr. Kitten. Kitten says El family is trying to compete with the Gosans, and they manage to grow his business so much in just twenty years. He says El brought the Duke the halidom of Madonna. Kitten says he's not part of the Gosan family, and Zipnight wasn't even fully analyzed yet, so El have a vision. He says even after the Duke turned El down, he was persistent on getting that sole right, and after few years, he finally got the consent, and at the time, the only margin one could get out of Zipnight was want the people had get from simple barter, and if they think about it now, they handed over the exclusive rights to him for nothing. He says a genius scientist of Urano, Dr. Ha'ken discovered Numen, also known as the god's skin, from Zipnight, and he passed away shortly after El got his sole right, and the cause of death is still unknown, and the anti-gravity weapon which only existed in theories could be manufactured all because of this extraordinary material, and Sten Industries, who applied this technology for the first time, became the top weapons manufacturer in the universe eight, and soon, this Numen technology was applied in all industries, but the El family intentionally supplied cheap Zipnight to Sten Industries, once the top of the industries, to constantly undermine the company's value, and at the same time, they kept buying off reliable subcontractors, and this was possible because of their exclusive right to the Zipnights, and the same goes, for the Gold Wing, so they used defective parts to manufacture the courier shuttles, with the increasing rate of accidents, he could buy all the remaining Gold Wing stocks for scraps, with his preexisting ventures, so they became strong enough to surpass Gosans anytime now. Kitten asks what about the terrorist attack on El. He answers Cain is known to be very loving of El, some might say he loves him too much, so he knew what was going on, but he couldn't officially say anything against his decision to get involved in the management of Sten Industries, so he pretty sure he was behind the terrorist attack himself to make a justifiable cause for this M&A.
He calls to Mayhen and asks where's her master. Mayhen answers Gosan is getting changed. At this time, Gosan calls to him and taps on a calculator and asks what brings him here. He says Gosan know exactly the El family's latest move so how he's going to respond to that. Gosan says he'll congratulate El. He says what if the El family overpower the Gosan family. Gosan says it's called a free market, so this is completely within the El family's rights. Then he stares into the sky and says to the Duke that he can trust him when he says he never taught Gosan like this. Gosan also looked up at the sky and says to the Duke that that's not true, and this old fool definitely taught him this way. He says if the Gosan family aren't careful, the El family will end up buying of the Duke's entire White Police Guards. Gosan says whatever, and he doesn't care if the El family buy the White Police Guards off or not, and it was obvious that he didn't want them anymore when he didn't call them in. He says Gosan is gonna give up the strongest security force in the entire universe eight. Gosan says the best there ever was, one that could blow up an entire planet, but they did ever do for the Duke when he died. Gosan angry and shouts what did those mighty security guards ever do for the Duke when he needed them the most, and they didn't any of them stay by his side, and his paper bag's eye holes are adjustable. He says Gosan don't make this about the Duke's death, and he can think about what will happen if someone else gets a hold of their powers. Gosan shouts that's why they've kept them for over twenty years, and all because they were scared of their powers, and that's why he has been putting together his own White Police Guards. Gosan shouts he doesn't want to end up like the Duke, and he's not dying before he get anything from the old White Police Guards for all the hospitality they've given them. Gosan shouts he want to sell all the old White Police Guards to El right now, so he can wipe them off with his own White Police Guards.
Current time
Edit
In 15. A.E. (1), a month later, the assassins are come and the one of them is immobilizes the owner of planet Bella's movements with his Quanx ability. The owner of planet Bella thinks his body is shrinking and asks who's behind this. The screen pops up and reveals the sunglasses bandage and him. He orders to the sunglasses bandage that Bella's next owner is chosen so get rid of the owner of planet Bella. The owner of planet Bella calls him to the factory guy. God appears in the sand like a real shape that can be transformed according to his will. The one assassin asks God is a Quanx too. God makes his hand pointed and penetrates the assassins, and says this isn't a murder and it's an act of justice to protect the planet and he asks he's a Quanx and he answers he's a god.
The owner of planet Bella, formed brotherly ties, informs the Duke Gosan that he was trying to kill himself. Gosan says he's actually the largest shareholder the Pax Industries. The owner of planet Bella surprises and says they're destined to be enemies. Gosan says they must haven't known that they're sworn brothers and let him apologizes on behalf of them. Gosan says he always keep the promise that he made when he was drunk. Daniel brings him while Gosan wears gloves and exercises with a sandbag. He reports that, they received a report about the leakage of the Neuro-scanning technology so he tried to kill the owner of planet Bella, and he asks he know Yahwah from Silverquick's station 7. Gosan answers Yahwah is shaman ghost. He says Yahwah was talking about the breakup of Carlburn's Quanx Unit through U.C.S., so he had to respond. Gosan says they're sworn brothers. He asks did they have drinks together. Gosan takes out the calculator and calculates the breakup of Carlburn's Quanx Unit. He also takes out the calculator and says that has already been over with. Gosan says since they're sworn brothers so they have to add the zero percentage of going to war with Bella on the list.
In Kuan's Fridge (53) - Ch.584, Sumai calls to Marvin who's holds his thermos lid, and says that he tried to steal drugs, so he could pay back the money, but a police inspector who has him at the palm of her hand took the initiative, and he says with Aorica gone, those drugs belong to whoever gets the first, their worth is enough to buy a whole planet, what he's saying is that he can take the drug, and let him cash them out without any trouble. Marvin shouts that Master Hazz would never allows the drug to this. Sumai says this is a reliable message from those who were exiled from Moab, and it's not any normal quality or quantity he's talking about here, and what's inside are the Hourglasses. Marvin tells it to Mayhen, and it means that he's a spy of the Gosan family. Mayhen reports it to him. He runs to Gosan's room. Gosan sits to chair and calculates to his Causality Calculator, and Mayhen is next to him. He reconfirms to Gosan that those are the drugs from Aorica. Gosan says it seems that way. He asks that what Gosan is calculating now, and he answers just this and that. He says if they really are the products from Aorica, then the rumor that a few members of the White Police Guards smuggled out a huge quantity of drugs was true. Gosan stands up and says he's going to get those products back. He says they're drugs, and he asks that why the Gosan family would want to get their hands on that. Gosan says if they really are products of Aorica, then the Duke bought them with his money 20 years ago, so obviously, they're the Gosan family's to claim.
Gosan sit in a chair and sleeping, and there's a message in front of him. Orange hair calls to him. He says Gosan is still asleep, if it's something urgent, Orange hair can just report to him. Orange hair says but Gosan gave him specific orders to report to him directly. Gosan wakes up and sees the message, and says to him that he got a message. Gosan sees two holograms. He says so it was true. Gosan says he knew it, that's what he get for putting his trust in the wrong sorts, those ungrateful bastards. Orange hair reports that he has a box for Gosan, and he orders he can bring it in. Orange hair with a box teleports. Gosan sees an Hourglass, and orders he wants more details, so Orange hair should give him all the memories that he read at the site, hold on. Gosan turns his head and calls Haggler, and he and Orange hair see this, but strangely he isn't appears. He came up with the Duke so he turns his head, Gosan takes off his bread bag. Orange hair gives to Gosan's head that the memories. There's a strange sound in Gosan's head, and then it comes back to its original sound. Gosan says it's interesting, and Orange hair should show it to him as well. Gosan wears his bread bag, and Orange hair shows the memories to him from hand to hand. He says the Devarim's long-term plan that the disciples of the church spoke of something, and he can't believe this, so the whole reason OBs entered the White Police Guards was to something. Gosan orders Orange hair should bring the heads of the Devarim who're directly related with this, and the three Old Boys from the White Police Guards as well, make sure they're unharmed. Orange hair asks if they happen to collide with the church priests in the middle, they should avoid them. Gosan says he's not scared of those fanatics, because he's Gosan, so get rid of anything that gets in Orange hair's way.
He runs to Gosan who's wearing gloves and beating a sandbag. He says the El's have decided to buy off all the old White Police Guards. Gosan says it's good, and that way, it'll be easier when they put all those bastards in one spot. He says Gosan is out of his mind, because he tries to hand the old White Police Guards over to the El's, and they're Duke's White Police Guards who'd the power to blow up an entire planet. Gosan says that's right, twenty years ago, now the old White Police Guards is just miserable scums filled with boredom and gambling addiction. He says Gosan can call the old White Police Guards all in, and they'll regroup, but he says he'll wipe them off, and he'll show them how the dogs that couldn't protect their master end up. He says he'll quit the work, and he doesn't think there's anything more he should do or can do besides Gosan, and it's been fun while it lasted. Gosan says he doesn't dare shut that door and walk out, and he'll never see him again. He says that's the idea, and he walks out and shut the door.
Dr. Kitten smokes and offers him a glass of liquor. He drinks the liquor and says Gosan is getting weirder lately, and he feels like he's talking to a brick wall. Kitten asks that is he really going to quit. He says he have had it with this. Kitten says he knows what he means, but when he leave, a lot of people will turn their backs on the Gosan's, and they aren't quite happy with how they distribute the profits, and he's the one who kept them happy all these years, who would wanna stay when he's not around any more, and let's face it, and everyone knows that he's the one who runs the Gosan family, at least, that's how he sees it, and the one who takes care of things is the true owner. Kitten explains that Gosan might've taken management classes and learned how to be an emperor, but there's no way he can beat his managerial skill out in the field, and he were the one who saved Gosan family from the brink of downfall. He asks what Kitten is trying to say. Kitten says it's simple, and he just want him to take the matters more actively for the good of many, and he's on his side, of course. He lights a cigarette.
The White Police Guards and Gosan arrive to Daniel. Gosan asks that what Lot is doing here, and what happened to those guards he sent, and he sees Orange hair's severed head. Gosan says Lot is annoying little prick, and he's always noisy and disrespectful, so he never liked him. Lot shouts that after everything they've done for Gosan, and this is how he treat them, and he can't throw them away like a piece of trash, and they didn't betray him, and he abandoned them, and if the Duke was still alive, he would've slapped him on his face or a paper bag whatever. A White Police Guards member says to Lot that he's crazy son of a bitch. Gosan orders to the White Police Guards member that he should wait. Gosan says it's a mess everywhere, and he let some dogs loose and they stab his back. Gosan takes out the Causality Calculator and says the courier ships just randomly start a fight with the El's. Gosan breaks the Causality Calculator like Duke. Gosan says screw it, whatever happens, happens, and he orders to White Police Guards that they should let Lot go. Gosan says listen to him and listen well, El's new guard, he should go back to El right now and tell him that the El's get ready for war. He sees this situation through hologram. Dr. Kitten says the Director of Pax Industries can stay calm and collective, now, let's look at this situation objectively, and say there's a car with a broken brake in order to save everyone, he should fix the brake, but if it can't be fixed, there's only one thing to do. He takes a gun out of the drawer. He thinks that if they can't control Gosan, they'll just have to get rid of him.
He tries to go to Gosan's room. A White Police Guards member and Daniel stop him, because Gosan is sleeping right now, maybe some other time he can meet him. He angry and shouts to Daniel that why wouldn't Gosan be sleeping, and he should get out of his way, right now. He opens the door. Daniel says what the hell, and the White Police Guards member says what's the matter with him. He shouts that Gosan is idiot, and he shoots a gun to him who's sleeping.
Daniel says to him that if he look at it from their shoes. He says that this had nothing to do with Daniel or his jobs, and this was between him and Gosan. A person calls him on the telephone. He hangs up. He says that the White Police Guards worried that they'd take the blame for this, 'cause they were the guards on duty, but it was his call, so they doesn't have to worry about that.

He says that in case the White Police Guards forgot their arrangements, there are only two people in this house whose orders they must follow, Gosan and him, what they just witnessed was a fight between their two masters, so they see, there was never any room for them to intervene in the first place, there's no need to blame themselves. He orders that the White Police Guards should stop getting all antsy and return back to their posts, and they should stay where they tell them to stay and wait for further instructions as they always do. Mayhen opens door and says to him that an urgent message from the El's. He lights up a cigarette. Mayhen says that the orientation for the old White Police Guards and the head of the Devarims encouraged Cain to get even with them. He asks that what about Hazz, and did he agree to that. Mayhen answers that as a matter of fact, the spy was let in the dark to prevent such mishap. He says that's right, although he knows for a fact that Hazz would never agree to do something so stupid, but if he helps Cain with his little vendetta, it'll be a tough fight for them, and he's a damn good tactician, someone who he'd want on their side, unfortunately, as long as he's on their side, he's the first on their list to get rid of. He taps a Causality Calculator. He asks that under these circumstances, what should they offer the El's, a hand and a fist or both. Mayhen says that the truth is she also thought that the Duke started to take it a little too far and he needed someone to slow him down, but this is there could've been other way, she means, he can't just. He says that he save the judgment on his actions for some other time, for now, they've more pressing matters at hand. He sees the results on the Causality Calculator. He orders that he wants Mayhen to visit the El's as their emissary, right now, he has some things to verify through the guards, so she should gives him a minute.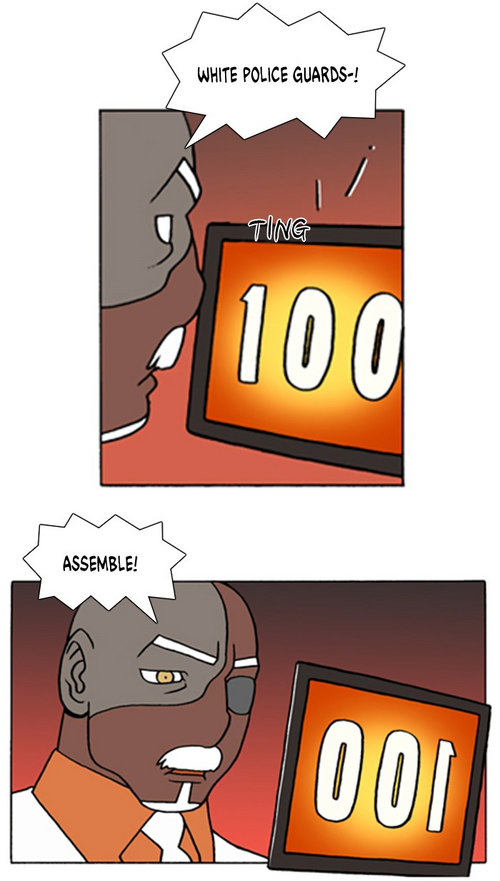 He floats a hologram which is white 100 on the orange background, and shouts that White Police Guards should assemble.
Dr. Kitten calls to the Bishop and reports that Duke Gosan gunned down by him. Kitten says that he gave him a little push by calling Gosan a broken brake, and it looks like he'd to make a choice, he, too, was surprised by his bold decision and action, and he's someone that can be reasoned with, someone they can talk some sense into, he'll understand the church's new stance on Gosan family and accept it. Kitten says that he'll keep his eye on it, and the Bishop doesn't have to worry about that boy anymore. The Bishop says that Kitten have done them a huge favor, Doctor, she'll think of a fitting compensation for him, but right now, she should spread the news about the conflict within Gosan family to the nobles of the universe eight. The Bishop hangs up, and thinks that but Gosan still has his guards.
He asks to Green old man and Blue old man that the two of the White Police Guards are the only members who were dispatched to the outer planets. Green old man says that the El family tried to sway them with a higher salary, but they declined their offer. A White Police Guards member behind Green old man sneers at him. He who's next to Daniel, he thinks that more like the old White Police Guards were so old and weak that they didn't even bother to ask them, and so the White Police Guards are really split into two, their collision is inevitable.
Hazz calls to Mayhen. Hazz says that of course, they certainly don't want any unnecessary conflicts either, besides, if it weren't for the help from the Gosan family, they wouldn't have come this far. Mayhen says that the young master insisted that they visit Hazz in person, and tell him their stance on this matter in detail, along with their apology. Hazz says that he accept the offer, then he'll tell Mayhen when to schedule the meeting as soon as they clean up this mess. He hears this situation, and says that a rational response, as expected, the El family wouldn't want the damage to be done for both sides. He orders to Mayhen that please she take care of it when the El's fix the date. Gosan is near he and Mayhen.
The White Snakes who were after the Old Boys shared the memory showing that Gosan's White Police Guards did at the scene with all the Quanx priests throughout the universe, and they got infuriated and started to vandalize their businesses. He watches screens and says to Mayhen that it's a mess, the church priests wrecked all their worksites, they're all requesting for their help, he knows they started this fight, but they crossed a line here. He orders to Mayhen that she should leave just a couple of guys here and send all White Police Guards in there immediately, until the dust settles, he'll take a stand and protect their business, if they ignore their initial warning and cross over, they wipe out all those damn priests, even the church will have to join in this mess if they show their firm stance, if they don't do anything and let them get away with this, it'll only give the nobles who'd a grudge against them an excuse to make a protest. Mayhen asks that but that would leave this place totally defenseless will it be okay. He says that what are they gonna do, no one, he means, no one in the universe eight would dare attack this place.
The big guy sees Gosan. He calls the big guy to Haggler, and asks that when did he get here. Haggler answers that it's just now. He says that he appreciates Haggler's hard work. Mayhen sees he and Haggler. Haggler asks to him that how did this happen. He answers that it's due to circumstances, it had to be done. Haggler sees Gosan.
The another explosion occurs at the entrance of the Intersecting Space. The U.C.S. guard orders to the guards that they need tanks for this situation. He who's next to Mayhen calls to the senator and sees this case. He says to the senator that they can't have to pay for the repair work of the Intersecting Space when it was three retired White Police Guards who torched up the place. The senator says that it's just that there may be stand from the nobles about parceling the fee but U.C.S. will do their best to insure that doesn't happen. He turns off the screen and says that they don't believe the senators because they demand them to uphold the responsibility of being a member of the council every time something like this happens when there are business regulations holding them back. The senator says that if the Gosan family so generously decide to help the U.C.S. with this regeneration, they were already planning to depose some of the special restrictions on the Gosan's. He says that they'll trust U.C.S., and they'll choose which restrictions to be delete within the price range of the repair fee. He hangs up the phone and says to Mayhen that the U.C.S. is the most cunning organization in the universe eight, and the security level of the Intersecting Space was poor that it couldn't even fend off three Hyper-Quanxs so it's so outright. He says that the senators will take some of the large budget for the reconstruction into their pockets through the companies handling the work.

He opens the list of the planets, and says that the fatter U.C.S. get with Gosan's money the easier it's for them to control them, so there's nothing for them to lose. The list of the planets are Ion, Galan, Nekar, Tamon, Megia, Duomo, Heron. He orders to Mayhen that they can starting get the money from their debtors who live on these planets so they can send their accounting team staffs on each planet and send one White Police Guard for each team.
The senator calls to him and says that he can't afford to do that. He says he doesn't think the senator is in the position to say that to the Gosan family. The senator says to him that it's just that the current situation is the U.C.S. is a complete mess with planet Koban suddenly disappearing, and he just need a little more time.
3 years later
Edit
In 15. A.E. (3-2), 6 months later, he calls Gosan an emergency call. Gosan wears a bread bag on his head, and says if it's not an emergency, he'll do something.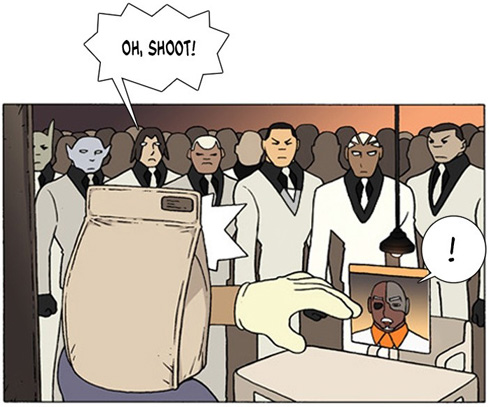 At this time, the bodyguards are gathered and he's on the screen. Gosan asks why did he summon his White Police Guards. He answers it's for his own safety and there's been a riot at Silverquick's station 7 and Quanxs are escaping. When Gosan taps on a calculator, he says this is no time for that and this could be a real threat to him because the leader group of rebels called the Apple made an encrypted document and he found his name on it, and it looks like they're trying to use him to protect them after they escape. Gosan laugh and says now everyone's trying to, so those filthy Quanxs are trying to make a deal with him, so let them.
"Ayy... Breadhead, wuss up!"
(To Duke) "Make everyone trust and never trust anyone."
'Yeah, if we can't control him... we'll just have to get rid of him.'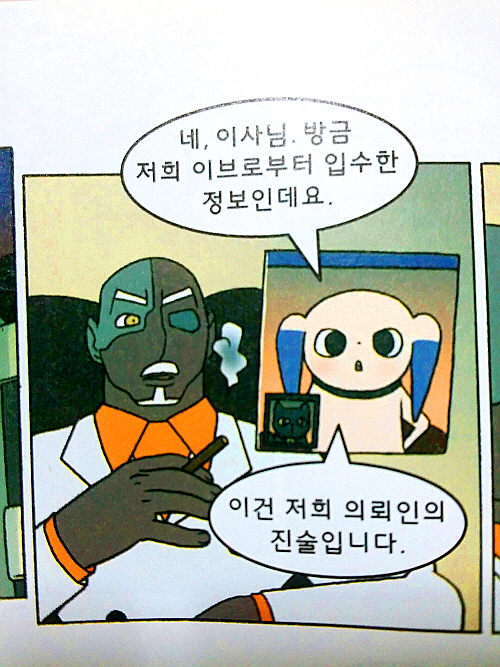 When he appears in Chapter 1 and Chapter 2, the images are different. In Chapter 1, he wears a suit with a black left eye part, no tie, and black buttons on both sides. In Chapter 2, he wears a suit with a gray left eye part, a tie. Originally, the author tried to make a difference in his outfit that was worn 20 years ago and now, but when the plot was transferred to Kuan's Fridge A.E., the author thinks he'll draw his eyebrows and beard color changed different but his suit is same. In the Volumes, his left eye part, which was black but it turned gray.
His position is seems to be Xiahou Dun and Xun Yu of Romance of the Three Kingdoms' position. Because Xiahou Dun have one eye and Cao Cao's cousin, and the Duke's position is seems to be Cao Cao. And Xun Yu is evaluated by a scholar as "Someone capable of assisting kings".
Volume 9's introduction mentioned him.

The Duke Gosan and the Count El are entering the preparations for war in the supremacy of the universe eight, and El's butler, Hazz draws the old White Police Guards that were forsaken by Gosan, and Cain who's El's son, holds hands with the Church of Madonna, however, the situation flows in a strange direction, because Gosan is shot by him who opposes the war of the two families, so he falls down.

Fan arts
Community content is available under
CC-BY-SA
unless otherwise noted.