The girl who woke up in the morning thinks that she wants get some sleep. Inside the bus, where Yahwah was drawn, Soy who's holding a Yahwah doll give her sister a candy. The girl says to her brother that behave well at school, and the brother says to Soy that the sister is talking about her. In the class, the girl thinks she's sleepy, and she shake hands to Soy outside the window.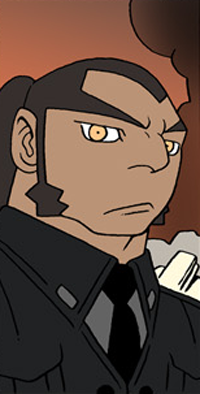 Gatsu says to Balack that the Inspection Department will catch Hades at the right time and he'll tell him when, it's because they're competing against the Security Department, and he heard that they sent Abigail to check him, so it turns out that the 3 troublemakers of church body are getting together at the same place and everyone knows about this at church body, so go strong because they don't let the security guys take him. At this time, Gray marks reports to Gatsu that they found some traces and information that could tell them Hades' next target. Gatsu orders to get rid of them before the Security Department guys arrive. But the Security Department and Abigail are arrive by the teleporting Quanx. Max asks why the Internal Affairs is sweeping where Hades already swept through.
Characters
Edit
Quanx ability used
Edit
Community content is available under
CC-BY-SA
unless otherwise noted.