The Internal Affairs member reports to Gatsu that Hades is escaped because the control systems were all disabled. Gatsu says he'll report to the Boss and orders they have everyone on emergency stand-by. When the Internal Affairs member goes out, Gatsu calls the Bishop and reports that Hades escaped successfully. The Bishop says now the Inspection Commander will form a search team to chase Hades down, and the Security Department should know this by now and they'll form another search team to chase him separately. The Bishop orders that Hades can't get caught by either team until his job is done, so Gatsu has to chase him but the point is to never capture him or has him captured, and tell the Inspection Commander that he want to lead the search team, once the job's done he'll be in charge of the Inspection Department.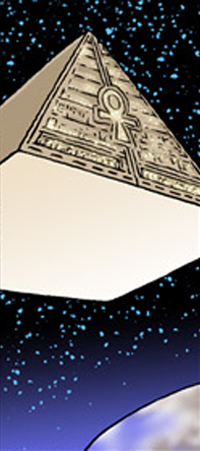 The Chief of Security Department is hears the reports that the controls were all disabled, and says right before a very important event so he can guess who's behind all this, and they're trying to draw attention to Hades. And the Chief of Security Department orders that the Inspection Department have no intention of capturing Hades, so they'll quickly send out the search team of their own to capture the escaped prisoner before the event, so he'll has their elite member of the Security Department, Max, handle this situation.
The girl slaps her brother's hip, and Soy also slaps her doll Yahwah's hip.
Characters
Edit
Internal Affairs member (debut)
Hades (mention)
Bishop (debut)