Blackout (블랙아웃, Beullaek aut) is the fifth episode of Denma.
It has Silverquick as its setting.
Apple is mention for the first time in this episode.
In (4) - Ch.19, there's various settings are mentioned a lot.
Yahwah's line "You're useful, so I'll make you an offer you can't refuse." comes from a famous line "I'm gonna make him an offer he can't refuse..." of the film The Godfather.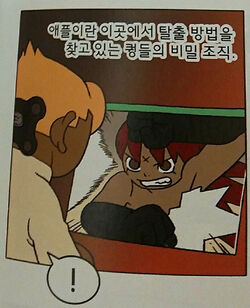 The cartoon that Denma is looking at. It's Orobo Batoo, Vitamin's webtoon of Yahoo! Cartoonworld. In volume 1, the version without call.
Here's the fan art. 2014 - Source (Spoiler)
Characters
Edit
Quanx abilities used
Edit
Old English version's lines
Edit
This is the old English version's lines
Community content is available under
CC-BY-SA
unless otherwise noted.